Landstar Contractors Advantage Purchasing Program (LCAPP)
LCAPP is a program provided exclusively to Landstar owner-operators that gives discounts on fuel, tires, and a variety of other business expenses and equipment. With over 9,000 owner-operator units in the Landstar system, Landstar uses this buying power to secure valuable discounts to improve its operators' bottom line.
LCAPP Fuel Purchasing Programs
LCAPP offers savings on everyday fuel purchases. Landstar BCOs pumped 125 million gallons of fuel in 2016 and LCAPP helped them save more than $35 million in fuel costs, averaging $.28 in savings per gallon.
Fuel Purchasing Details
There are various types of fuel rebates available for Landstar BCOs through LCAPP.
Cents Off
Most locations listed in the LCAPP® directory offer cents off the pump price of fuel, where the discount is credited back to your card balance. LandstarOnline offers a list of stops that will help determine which will have the best fuel value.
Remember, your Landstar card will be charged for the full pump price, then a rebate will be applied after the initial transaction.
Cost Plus
Most TravelCenters of America and Petro locations offer either "Cents Off" or "Cost Plus" rebates. Cost Plus (Cost+) discounts are based on the cost of fuel at the truck stop.
Before fueling, call the TA/Petro fuel price hotline at 1-800-494-FUEL (3835) to find the cost at that location on that day.
Check www.LandstarOnline.com to verify the current pumping fee and locations participating.
Landstar cards will be charged for the full pump price and then you will receive an instant rebate credited to your card for the discount available.
The cost at each location changes daily.
Click here for participating locations.
If you would like to speak to a Landstar recruiter, click here. If you would like to apply with Landstar, click here.
Tire Purchasing Programs
To receive LCAPP tire savings:
Call LCAPP at 1-800-531-5227 to request tire purchase authorization. Once issued, authorizations are valid for 7 days.
Price tires with LCAPP, and take your authorization number to a tire dealership that handles LCAPP approved accounts for the brand of tires priced.
Verify all charges on the delivery receipt before signing it. Keep a copy for your records, the shop will fax the delivery receipt to LCAPP at 1-888-329-5787. If the charges on the delivery receipt are not correct, do not sign it until it is accurate. Only LCAPP pre-approved parts and labor can be added to the delivery receipt.
Tire purchases will be deducted from a BCO's settlement unless Landstar pre-approves otherwise.
Financing Programs
Landstar Contractor Financing, Inc. (LCFI)
LCFI provides opportunities to help Landstar BCOs finance purchases for new trailers at competitive rates. Qualified BCOs can finance up to $35,000 with 5% for factory direct purchases and 10% for all others. BCOs must have:
Completed at least one year as a Landstar owner-operator
No bankruptcies or tax liens
Favorable credit scores
*Down payments and interest rates are subject to change based on an applicant's credit score.
Wells Fargo Equipment Finance
Wells Fargo Equipment Finance specializes in commercial lending for the purchase of equipment and offers one of the most competitive rates in the transportation industry. In order to finance through Wells Fargo, BCOs must have:
Three years ownership track record
No bankruptcies
Favorable credit scores
BCOs who own just one truck can click here to complete and print a credit application.
BCOs who own more than one truck, click here to complete and print a credit application.
Completed applications should be faxed to Wells Fargo Equipment Finance:
Wells Fargo Equipment Finance
Attn: Laurie Kirpach
Fax: 866-878-5590
Wells Fargo Contacts
Attn: Laurie Kirpach
800-322-6220 Ext 75874
laurie.a.kirpach@wellsfargo.com
If you would like to speak to a Landstar recruiter, click here. If you would like to apply with Landstar, click here.
Parts and Services
LCAPP offers Landstar BCOs consistent pricing and savings for truck parts and services.
With several special programs exclusively for Landstar BCOs, great prices on new trucks, parts, service and body shop work are available at hundreds of locations nationwide.
TA Truck Services and Petro:Lube
Tractor Purchases – New and Used
New Tractor Purchases
Landstar is proud to offer a variety of discount and rebate programs through LCAPP.
When requesting a rebate on a new or used truck purchase, please complete and send the LCAPP rebate request form, attached below, with a copy of the bill of sale by fax to 888-329-5787 or email to LCAPPrebates@Landstar.com within 30 days of purchase. Contact LCAPP at 800-531-5227 to confirm your fax or email has been received. Allow 6-12 weeks for rebate processing.
LCAPP Phone 1-800-531-5227
LCAPP Fax 1-888-329-5787
LCAPP Rebate E Mail LCAPPrebates@Landstar.com
To complete a LCAPP Rebate Request Form click here.
IMPORTANT:
Rebate programs are intended for single unit purchases. If you are purchasing more than one tractor, or if your single unit purchase was part of a larger order, contact LCAPP® for rebate availability before the sale. Vendors reserve the right to terminate rebate programs without prior notice. LCAPP is not responsible for rebate requests determined as ineligible.
If you would like to speak to a Landstar recruiter, click here. If you would like to apply with Landstar, click here.
Trailer Purchases – New and Used
Through LCAPP Landstar can help BCOs and agents save by ordering factory-direct products. Contact LCAPP for pricing and locations, and find out if you can qualify for a trailer finance with as little as 5% down.
New Trailer Program
Participating Manufacturers:
Fountain:
Brian Berry – 205-485-1358
Great Dane trailers:
Donnie Gray – 888-869-3300
Wabash National:
Jon Snyder – 800-875-5001
LCAPP also has regular orders of drop decks, flatbeds and vans from suppliers throughout the year. LCAPP orders offer better pricing and immediate delivery.
*Outside financing is available for reefer purchases
Used Trailer Program
Used trailers are available through LCAPP. LCAPP For Sale by Owner has a complete list of used trailer ads provided by LCAPP for Landstar agents and BCOs.
*"For Sale By Owner" is a service to Landstar agents and BCOs who are solely responsible for any errors, omissions or misstatements.
Business Assistance
ATBS
Business Capacity Owners who use Profit and Loss Statements monthly to manage their business can improve their income by 30% or more. Yet tracking expenses and income can take time – time better spent earning revenue, resting or enjoying your family.
ATBS is the largest, most experienced and respected provider of business services for BCOs. They've invested time and money into simplifying the accounting and tax filing process for you, providing you detailed feedback and advice that can lead to greater business success.
ATBS uses state-of-the-art technology to provide you:
Scanning of all receipts and documents so information is secure
Access to statements, line item detail and actual receipts on-line
Year-end tax and accounting documents provided on disc for easy storage and access
An increased level of customer service through Chrome, the ATBS customer management system that provides one view of all data
Call ATBS at 866-431-0370 to learn how they can add value to your work, so you're working for your value. Or visit their website at www.ATBSshow.com.
PrePass – Weigh Station Bypass System
Landstar BCOs have the option of participating in PrePass for a low, $2.50 weekly flat rate for unlimited weigh-station bypasses. PrePass now has more than 287 operational sites around the country. Instead of waiting in 20-30 minute scale house back-ups why not get a green light to keep on truckin'!
Landstar ATM Service
Access your funds anytime, anywhere by using your Landstar card from Comdata at any ATM displaying the Cirrus® logo. All you need is your four-digit PIN to complete a withdrawal.
Please contact your Landstar card administrator if you need help resetting your PIN.
Changes to the Comdata system and increased fees for ATM withdrawals and balance inquiries became effective November 15th. There is now a fee of 50 cents for a VRU (Automated phone system) balance inquiry. The fee for an ATM withdrawal is now $1.25. The fee for an ATM balance inquiry is now $2.00.
These balance inquiry fees can be avoided by:
Registering for a Comdata account online
Downloading the FREE Comdata mobile app
Checking balances online or through the mobile app before making a transaction.
TripPak Express
TripPak Services is committed to growing the bottom line of Landstar BCOs!!
TripPak EXPRESS is the industry standard in overnight, low-cost express delivery of trip documents. Landstar offers this reliable document collection service as a competitive advantage for the BCO. For less than a dollar a day, BCOs can overnight all the critical documents that Landstar needs for settlement.
TripPak services through their Capture AnyWare™ solutions is committed to creating a better bottom line for today's driving professionals. BCOs can either scan TripPak remotely through the network of over 380 participating partners or drop trip envelopes at any one of the 1,600 TripPak EXPRESS drop boxes within the U.S. and Canada.
www.trippak.com.
To sign up for TripPak Express, call:
Express America
1-800-449-9742, #1
Chari Keller
Rockford
1-800-435-1321
Fleet Administration (Rockford)
Jacksonville
1-800-872-9412
Contractor Services (Jacksonville)
If you would like to speak to a Landstar recruiter, click here. If you would like to apply with Landstar, click here.
Call 913-341-5858 to speak with a Landstar Recruiter about your situation and goals.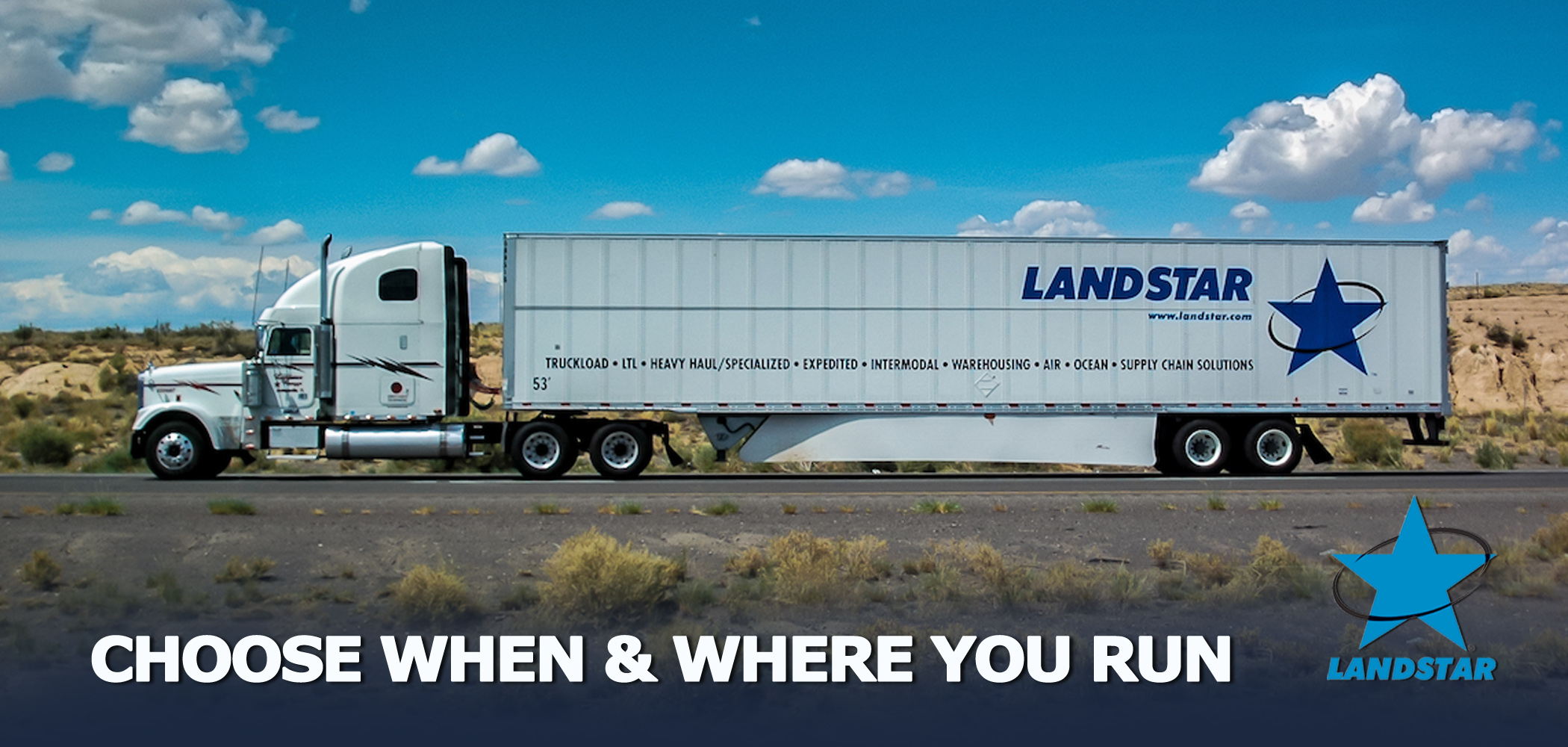 Top Recruiting Questions and Topics